April 12, 2021
‣ 60th Anniversary of Yuri Gagarin's spaceflight in 1961
‣ 40th Anniversary of the first Space Shuttle flight, STS-1 in 1981
‣ 20th Anniversary of Yuri's Night, the World Space Party
Join the worldwide Yuri's Night Party
April 10 at 4pm Pacific, 7pm Eastern
Yuri's Night is bringing the world together to celebrate all of the amazing things that humanity can achieve – please join us! Follow this link to find out about the global live stream.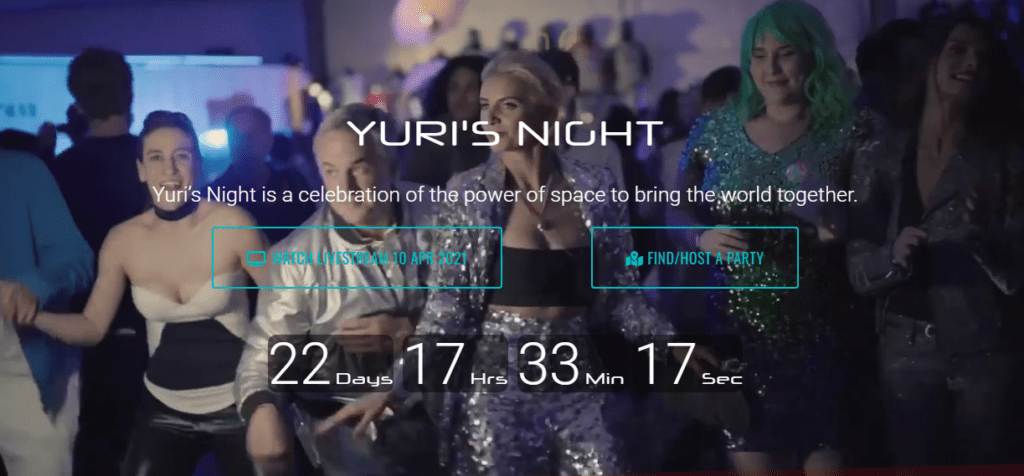 About Yuri's Night
Yuri's Night is an annual event that typically has hundreds of parties around the globe (and beyond!) centered around April 12, the anniversary of the first human spaceflight and the first launch of the space shuttle. These events celebrate all that humanity brings with us as we explore the cosmos: music, art, science, culture, and each other! Local groups, science centers, museums, NGOs, and other non-profit groups independently produce events worldwide. We use space to bring the world together, to empower the greatest parts of who we are, and give vision to where we are going.
We look forward to post COVID when we can again host an in person annual Beyond Blue Aerospace Yuri's Night event.
Yuri's Night 2019 with the Air Cadets
Yuri's Night 2018 at the Beyond Blue Hangar